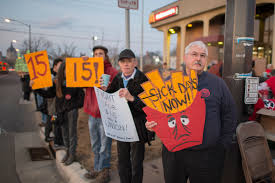 Massachusetts workers enjoy many protections under the Wage and Hour Act and Overtime Statutes (Mass General Laws Chapters 149 § 150 and c. 151, § 1A, respectively). The legislation, enacted in 2008 by Attorney General Martha Coakley, provides for mandatory treble damages, costs, attorney's fees and interest for aggrieved employees who successfully bring suit against their employers.  The law provides that workers must be paid in a timely manner (to include accrued vacation time, which is treated the same as wages) weekly or bi-weekly, and that terminated workers must be paid all sums due and owing, in full, on the date of discharge.
The law also has some procedural quirks requiring special attention and care.  In order to bring a civil case, the employee must obtain a "private right of action" from the Attorney General. This private right of action is a prerequisite to bringing a claim in court. Failure to follow the proper procedure may result in a case getting dismissed.
The following laws require a private right of action prior to bringing suit:
Prevailing Wage Law – M.G.L. c. 149, § 27
Retaliation – M.G.L. c. 149, § 148A; M.G.L. c. 151, § 19
Improper Deductions from Wages – M.G.L. c. 149, § 150C
Independent Contractor Misclassification – M.G.L. c. 149, § 148B
Tips Statute – M.G.L. c. 149, § 152A
Earned Sick Time Law – M.G.L. c. 149,§ 148C
Domestic Worker Law – M.G.L. c. 149, § 190
Violations of the minimum wage laws and overtime laws do not require a worker to receive a private right of action prior to proceeding with a civil case against his employer.
If you feel you have been aggrieved by violation of any of the above statutes, contact Petkov Law for a free consultation. Our staff will make sure you get your private right of action in a timely manner.